LKBDE11559: Support für die Lehrkräfte-Endgeräte. (UEM Projekt)
---
Symptom
Sie haben ein Problem mit dem Endgerät und benötigen Unterstützung.
Cause
UEM Gerät benötigt ggf. ein Ticket.
Solution
Bei Unterstützungsbedarf mit den Lehrkräfte-Endgeräten hält das Land einen zentralen Support durch den Landesdienstleister Dataport bereit. Dieser kann durch den Schulträger im Hinblick auf die dezentrale Administration und die Anbindung an die lokale Infrastruktur ergänzt werden.
Alle Supportanfragen an das Land werden über das Helpdeskformular aufgegeben (Bereich LK-Endgeräte -> Support):
https://secure-lernnetz.de/helpdesk/
An den Schulträger wenden Sie sich bei Bedarf bitte über die Ihnen bekannten Meldewege.
Quelle: https://medienberatung.iqsh.de/endgeraete-lk-s-support.html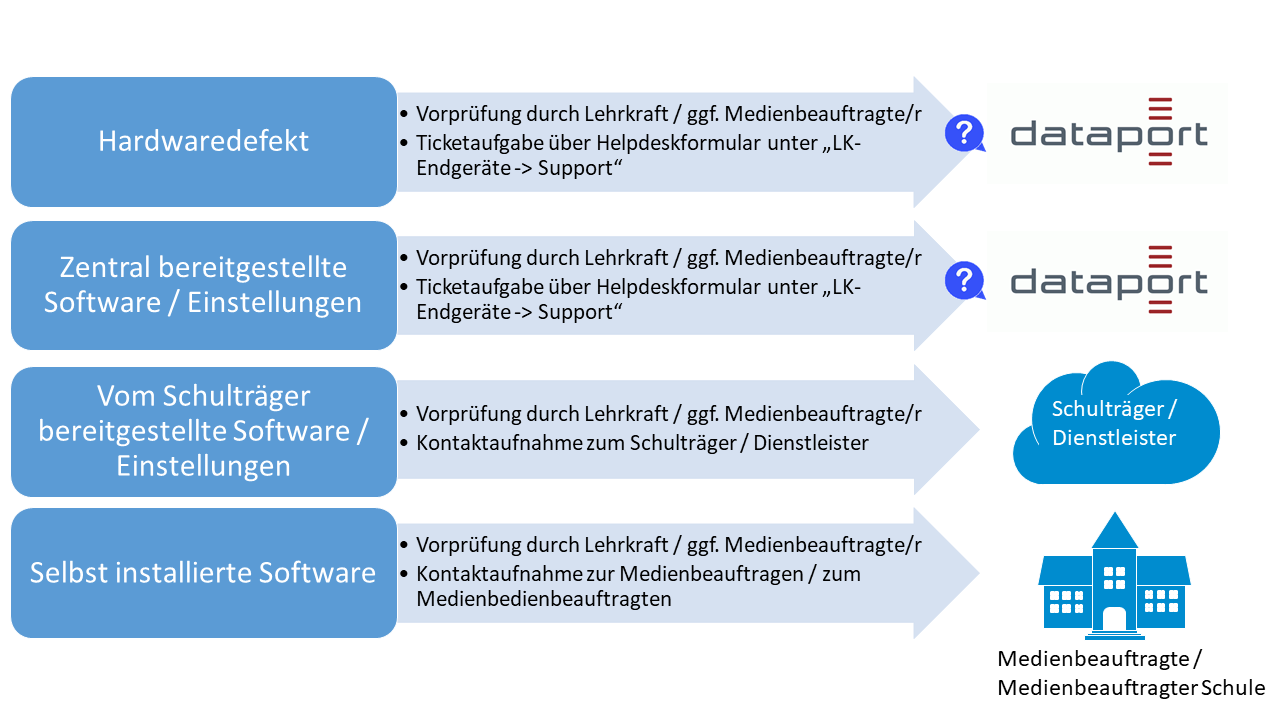 Die Ticketplattform wird vom IQSH betrieben und ist OTRS (= Open Ticket Request System).
Information für das UEM Projekt in SH.
Disclaimer:
The information provided in this document is intended for your information only. Lubby makes no claims to the validity of this information. Use of this information is at own risk!
---
About the Author
Author: Wim Peeters - Keskon GmbH & Co. KG
Wim Peeters is electronics engineer with an additional master in IT and over 30 years of experience, including time spent in support, development, consulting, training and database administration. Wim has worked with SQL Server since version 6.5. He has developed in C/C++, Java and C# on Windows and Linux. He writes knowledge base articles to solve IT problems and publishes them on the Lubby Knowledge Platform.
Latest update: 02/05/2022 | Comment:
---